4/4

3.5/4

1.5/4

3/4

4/4

2.5/4

3/4

2.5/4

3.5/4

3/4

2/4

2.5/4

3/4

4/4

3/4

2.5/4

4/4

3.5/4

3/4

3.5/4

3/4

2.5/4

3.5/4

2.5/4

3.5/4

Next 25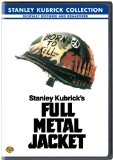 Full Metal Jacket
Full Metal Jacket review
4/4 stars
In the United States marine Corp. Gunnery Sergeant Hartman (R. Lee Ermey) gets tough in training his Corps. by calling his men with nicknames like Private "Joker" (Matthew Modine) and "Snowball" while a Private "Gomer Pyle" (Vincent D'Onofrio) gets it from him when he was grinning, couldn't do a pull-up, and more. Pyle (Leonard) is assisted by Private Joker assigned by the difficult Sergeant. After the Sgt. discovers a donut he punished the whole Corps. They got back at Pyle by hitting him with bars of soap wrapped in towels. Platoon 3092 are about to graduate when Leonard shoots the Seargent and himself.
Sgt. Joker goes with Private First Class Rafterman (Kevyn Major Howard) a war photographer meets Lt. Touchdown (Ed O'Ross) and are sent to Phu Bai. "Cowboy" (Arliss Howard) becomes in command after their squad leader gets killed.

Magnificent screenplay with the following quotes: Narration - "Men without fear." "It is better to be alive." Sgt. Hartman – "You are part of the brotherhood…the Marine Corps lives forever. And that means you live forever!" Sgt. Joker - "In a world of shit I am glad to be alive, and unafraid." The humor never fails from the chants, to the smiling during photography, and more. It is a rarity for a film from a director who uses very lengthy shots in a scene. This war film was engaging from beginning to end, from the realistic gun fights to the performances of the supporting cast, Ermey and D'Onofrio. The soundtrack was well picked, much like the directors other movies. You can see the transformation of Joker from being a prankster, to a mentor, and then realizing the seriousness of war while valuing life. Full Metal Jacket, in this viewers mind, is one of the best depictions of war.