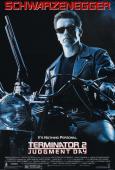 Terminator 2: Judgement Day
Terminator 2 Review
4/4 stars
Terminator 2: Judgment Day... James Cameron can go to his grave knowing he made this masterpiece of a sequel. Arnold Schwarzenegger plays a role of "good" terminator sent back in time to protect the future savior, John Conner (Edward Furlong) from a "evil" terminator called the T-1000 (Robert Patrick). This movie is without a doubt, one of the best action movies ever made. When this was made in 1991, CGI wasn't a big thing, so when James Cameron used it, he revolutionized it. Although, this movie has the best action scenes, it also plays a role on how all the characters make a dramatic change in the end. The Terminator changes by having a more human personality and being a father figure to John. Sarah Conner (Linda Hamilton) changes by hating the Terminator at first because it was trying to kill her in the first movie but soon trusts this terminator and accepts to be friends with him. Overall this movie has sends out a message saying that the future is not written and we can always change it. By the times the credits roll, you'll be saying WOW!

IF YOU HAVE NEVER SEEN TERMINATOR 2, THEN YOU SHOULD. YOU WILL NOT REGRET IT!