2.5/4

3/4

3.5/4

2.5/4

3/4

1.5/4

4/4

3/4

4/4

1.5/4

4/4

1.5/4

1.5/4

4/4

1.5/4

3.5/4

N/A

2.5/4

1.5/4

2.5/4

3/4

2/4

3/4

2/4

3.5/4

Next 25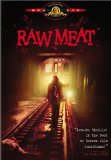 Death Line ( Raw Meat )
Mind the doors
2.5/4 stars
Evil creatures are lurking in the tunnels of London Underground, but enough of the staff. Passengers are disappearing from Russell Square station, close to where some construction workers were rumoured to have been buried alive during the creation of the Piccadilly Line.

The unlikely spectre of Hieronymus Bosch hovers over the film, notably in the tunnels. And one of of the Dutchman's paintings is discovered in the house of a victim. The scenes underground are the real strength of the film, conveying a terrific sense of dread thanks to some brilliant lighting and photography. Upstairs, however, there's a threat on three fronts: bad British acting, clunky dialogue and Afghan coats.

This is a long way from being a classic but the film's aforementioned strength's just about overcome its weaknesses. And then there's Donald Pleasence giving a wonderfully eccentric performance as a police inspector in 70s London.