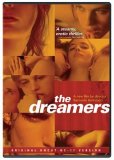 Dreamers, The (2004)
Very good film

I don't understand this idea that people think this film is pornographic...why? because it questions sexuality and it's what I call a "free" sort of film? If this is considered pornographic, then films here in the US like Unfaithful and Closer, (both excellent films) should be deemed pornographic as well. I saw nothing pornographic about this film. Instead, the film really taught me to appreciate French films.

The movie centers on Green, Pitt, and Garrel, who are just epically cast in the film and ventures on Pitt's meeting Garrel and Green at a film strike. Immediately, I mean I just blinked and I fell in love with Eva Green the moment she came on to the first scene. In fact, this was the film that I first saw her in, and made me a fan...not because of the nudity, thats just a plus for any guy, but because she was such a wonderful element in this film. The relationship between all three of these characters are so complex, but at the same time, you're taken by them...and then you have the re-enactments of films from the past and just so much could be said, it blew me away...I can't even begin to describe how good I felt after I saw this film. I was left in awe...