N/A

3/4

2.5/4

3/4

2.5/4

3/4

3.5/4

4/4

3/4

3.5/4

3/4

3.5/4

4/4

4/4

3/4

4/4

4/4

4/4

4/4

3.5/4

2/4

1/4

1.5/4

2/4

2/4

Next 25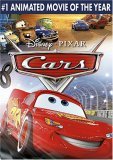 Cars
A Dad's Review
3/4 stars
My opinion of this movie has changed a lot since becoming a dad. Here's what I wrote 5 years ago:

Theres a lot of flash and some impressive anthropomorphism. But the "outsider learns the importance of community" has been done before better. That said, this is probably at the bottom of the Pixar films, while still better than almost every other computer animated film.

But now I know what all parents of little boys know: that this is the most engaging PIXAR movie for them. My boys don't quite get Wall E or UP. But they love Cars, and I don't even care if it is shameless merchandising (actually the toys are pretty high quality and hold up to abuse, but that's another review) I have to respect this movie because it was as if John Lasseter was specifically crafting a movie that boys would love. In the process he didn't throw in innuendo or bathroom humor the way Dreamworks Animation movies love to. The villain isn't scary, so 2 year olds can watch it without risk of nightmares. Lightning McQueen has babysat my kids several times when I'm needing a break, and I don't have to worry about what my little sponges are absorbing.

So PIXAR, thank you. Cars may be the least impressive of your roster in my opinion, but it's the kids' opinions that count.