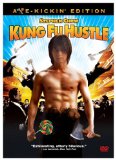 Kung Fu Hustle
Greatly Underappreciated
4/4 stars
Amazing movie!! I couldn't believe how much fun it is to sit through and watch the movie again and again. The mixing of action, comedy, and a little bit of sadness are perfectly juxtaposed. I recommend this movie to anyone who wants a good time. I found this movie in a clearance section of a used DvD store for two dollars... fools! I would have gladly played eight!! All I can finally say about this film is that the world needs more like it. A lighthearted comedy with just cool characters and situations.

P.S. The old guy in the film (main villain, the "Demon") can be seen in the Jean Claude Van Damme film, Bloodsport. He plays the buffed out bad guy in that one!