1/4

2.5/4

2/4

3/4

1.5/4

1.5/4

3.5/4

3/4

3/4

3/4

2.5/4

3/4

3/4

2/4

3/4

2.5/4

3/4

2/4

2.5/4

3/4

2/4

2/4

1.5/4

2.5/4

2/4

Next 25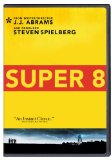 Super 8
Solid 80's Throw Back
3/4 stars
This was a solid Sci Fi Fantasy Movie. I had heard some one say that it had a Goonies meets E.T. feel to it and it was created by JJ Abrams so I though how could I go wrong. It lacks the Heart at the core of E.T. and lacks the overall adventure and action of Goonies but I would say they are pretty good comparisons for this movie. It is not nearly as good as either of those movies but it is in the same vein as them and worth watching.

I was pleasantly surprised by the acting in this movie. I knew that Kyle Chandler was a good actor from watch Friday Night Lights TV show. I also assumed that Elle Fanning would be pretty good based on what her sister has done. But the rest of the kids in the cast did a great job of playing their parts and keeping me interested in the film and the characters that it effected.

Over all I would say this is a solid movie that is a throw back to the mid 80's child adventure movies that is worth adding to your Netflix cue.