1/4

2.5/4

2/4

3/4

1.5/4

1.5/4

3.5/4

3/4

3/4

3/4

2.5/4

3/4

3/4

2/4

3/4

2.5/4

3/4

2/4

2.5/4

3/4

2/4

2/4

1.5/4

2.5/4

2/4

Next 25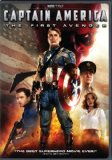 Captain America: The First Avenger
Did It's Job and Then Some
3/4 stars
Marvel got back on track with their movies with Captain America: The First Avenger. It did a very good job of bridging the World War 2 origin of Captain america to the modern day so we as an audience are ready for The Avengers this summer(2012).

Over all the story was good and the action kept the movie going at a nice pace. The beginning may have been a little slow but they do a good job of setting Steve Rodgers up as an underdog you want to root for. Sure it was a little predictable but they had enough fun and action to make me not worry about that. The little love story they threw in there was nice and didn't take anything away from the movie, in fact it may haven even added a little something for the romantics out there.

The real amazing part of this is the CGI. They did a great job making the brawny Chris Evans look like a short scrawny guy from Brooklynn. Also the CGi to make x look like the Red Skull was great. He was just creepy enough not to give kids terrible nightmares.

In the end the point of this movie was to set up The Avengers and make you want to go see it. It did it;s job very well. I already wanted to see The Avengers but this got just a little more excited for it come out.