1.5/4

2/4

1/4

2/4

2/4

3/4

1.5/4

2.5/4

1.5/4

0.5/4

0.5/4

2/4

3.5/4

1/4

2/4

1.5/4

2.5/4

0.5/4

1.5/4

2.5/4

3/4

1/4

2.5/4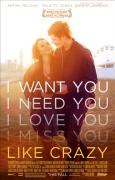 Like Crazy (2011)
Excellent cast, zero closure
2.5/4 stars
I would have given this movie a lower rating, but the actors are just so great and work so well together that I can't bring myself to give it a lower rating. It's not often you find a young cast who give such fresh performances and can convey emotions so effortlessly. When I found out the script was largely improvised I was even more impressed.
Like Crazy is the tale of American Jacob and British Anna who fall in love when Anna is in the US on a student Visa. Anna overstays her Visa, goes back to the UK for a wedding, tries to come back to the US and is informed at customs that she's banned for violating her Visa. What follows is the story of Anna and Jacob's love from across the pond. They break up, they make up, they see other people.. they're all over the place. They continue to stay in contact through it all. And it's all good enough, really, it is. It held my interest.
Then.. the end came. Ugh. It is such a non-ending, totally open ended and those aggravate me to no end. It's not my movie, I shouldn't have to make my own closure. I got to the end and felt like, ok, is the moral here "you always want what you can't have?" I went through all these emotions (and actually rooted for the other people they were dating, Samantha and Simon. I didn't necessarily want Jacob and Anna together) and just felt there was little payoff in the end. As Johnny Depp says in Secret Window, "all that really matters is the ending.." This movie will be added to my list of movies that I like 3/4 of and hate the ending (the Notebook! Enchanted! I'm talking to you!).
To sum up, great performances, extremely talented young cast (I vow to see anything involving Anton Yelchin or Jennifer Lawrence forever), held my interest, but left me wanting closure.