2/4

1/4

2/4

2/4

3/4

1.5/4

2.5/4

1.5/4

0.5/4

0.5/4

2/4

3.5/4

1/4

2/4

1.5/4

2.5/4

0.5/4

1.5/4

2.5/4

3/4

1/4

2.5/4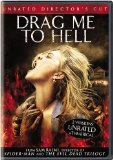 Drag Me to Hell
My 1st donkey balls rating!
0.5/4 stars
You have to be deeply disturbed to enjoy this movie. Whoever wrote it should be committed.
I should have turned it off after the first act of animal cruelty. When the second seemed to be coming, I was done. I won't be finishing it.
This movie was just gross and the acting wasn't exactly good. Most of the "scary" parts are funny. It's filled with vomit, pathetic effects and of course a lame love story at the center of it all.
Being dragged to hell is about equivalent to watching this movie. It makes Paranormal Activity look like a masterpiece.