0.5/4

0.5/4

1/4

2/4

2/4

2.5/4

3/4

3/4

3/4

3/4

3.5/4

3.5/4

4/4

4/4

4/4

4/4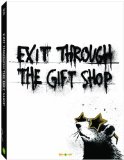 Exit Through the Gift Shop
Sploich Reviews Exit Through the Gift Shop (2010)
3.5/4 stars
I wouldn't say that I am exactly "in the know" of the art world. I fully admit I pay more attention to mainstream films, so when I hear about very obscure artists I just don't know what people are talking about. Even when it comes to film, I don't really care about documentaries all that much. I also don't pay attention to still exhibitionist art whatsoever, so when I heard people praising a documentary made by a guy named Banksy, I was really lost. I have to admit though, after now having seen Exit Through the Gift Shop, I understand why this is such a highly regarded documentary.

The film centers on Thierry Guetta, a guy who ended up with a camera and never put it down. Through his documented wanderings, he came across the vast "underground" world of street art. Regardless of where you live, you've most likely seen this. It's pretty much stylized graffiti. Thierry decided to use his old obsession to document his new obsession and thus plunged himself into a society of rebels with a cause. His main target however was the illusive Banksy, who is apparently the number one street artist in the world. This journey led Thierry to become an artist himself, changing his life as well as really the whole idea of street art from then on.

For something I still have no interest in, even after having watched this film, it was fascinating to watch as events developed. Guetta is a bumbling lunatic who just happened to force himself into becoming one of the most famous artists of his time through sheer concept. It's really a story of a guy discovering what he wanted to do with his life and going for it full-force, despite the odds, and ultimately succeeding. On the other hand, the documentary also reveals the ultimate idiocy of the art world, where anybody can push their style as "the new big thing" and if enough people catch on, then it becomes a self-fulfilling prophecy. I think my favorite quote from the film was from Baksy himself when he said near the end that "Maybe it means art is a bit of a joke."

The fact that a complete loser like Guetta was able to put together such an immense art show when so many other artists are struggling to even sell one painting is astounding and does surface the question on how exactly the art world is supposed to work. Personally I think that the ultimate message of the film is that Capitalism prevailed, but I wouldn't begrudge others for seeing it differently.