3.5/4

2.5/4

2/4

3.5/4

3.5/4

2.5/4

3/4

4/4

4/4

4/4

4/4

3.5/4

1.5/4

2.5/4

2/4

2.5/4

3/4

2.5/4

2/4

4/4

2/4

1/4

1.5/4

4/4

3.5/4

Next 25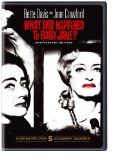 What Ever Happened to Baby Jane?
High Kitsch Factor
3.5/4 stars
When this movie used to come on TV (yes, back in the old days when you had to wait for them), I had a morbid fascination with it, and watched it intently each time. I knew the two stars had been big in previous decades and I wondered what brought them to the point of taking these grotesque roles.

Now, after seeing many other Bette Davis and Joan Crawford movies, I appreciate the high Kitsch factor, and I can just imagine the behind-the-scenes banter and trash talk between Bette and Joan. Bette does have the juiciest role, by far.

Another treat is the great character actor Victor Buono.