3.5/4

2.5/4

2/4

3.5/4

3.5/4

2.5/4

3/4

4/4

4/4

4/4

4/4

3.5/4

1.5/4

2.5/4

2/4

2.5/4

3/4

2.5/4

2/4

4/4

2/4

1/4

1.5/4

4/4

3.5/4

Next 25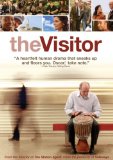 Visitor, The (2008)
Study in Contrasts
3.5/4 stars
This beautiful movie is a study in contrasts: white New Englander/non-white Middle-Easterner and Senegalese; academia/arts and crafts; classical music/drum circles; lack of engagement/social connectivity. The disengaged white academic at the center of this goes through a transformation, and in the process makes human connections for the first time in years.

Or you could say, he goes from being the type of person who wouldn't like this movie to the type who would.

The cast is great all around, and help to keep the story from being overly sentimental.