2/4

2/4

3/4

1.5/4

2.5/4

2/4

2.5/4

2/4

2.5/4

1.5/4

2/4

3/4

1.5/4

1.5/4

3/4

2.5/4

3/4

3/4

1.5/4

2.5/4

3/4

2/4

3.5/4

4/4

4/4

Next 25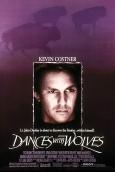 Dances with Wolves
Fails
2/4 stars
A movie that works in some aspects but fails in others. Its a big epic although an epic that really lacks a plot of any great interest. There are big views and scenes of grandeur but not connected with a story of great interest. It is mostly a white soldier interacting with the Indians than joining them. They go through all the differently things they do together of varying interest. I was overly interested in this part but it was okay, and Costner trying his hardest to make 3 dimensional Indians is an attempt although not quite perfect. The Indians are still kept at a distance and maybe it would have worked better without the civil war soldier. Then the soldier show up for a big climax to show that now the Indians are 3 dimensional the union soldiers have to be one dimensional as possible. They could be portrayed in a negative light if Costner wanted them to but have them actually people not just all lunatics. It is just poorly done. The bad Indians portrayed were 3 dimensional even but not the Union soldiers they had to all be crazy.

Oscar Nominee Best Actor Kevin Costner 0/5- This is one of the worst best actor nominees ever, Costner is just terrible, he says everything as blandly and boringly as possible. He is completely wooden in the film. Terrible downright terrible, horrendous, and far to concerned with filming himself naked just to add to that too.

Oscar Nominee Best Supporting Actor Graham Greene 3/5- Greene is find as the Indian chief and portrays the part well. He does not fall into easy pitfalls possible in a chief portrayal and does a fine job throughout the film. IN fact maybe the film should have been about him and Costner get killed first thing to rid us of his bad acting.