2/4

2/4

3/4

1.5/4

2.5/4

2/4

2.5/4

2/4

2.5/4

1.5/4

2/4

3/4

1.5/4

1.5/4

3/4

2.5/4

3/4

3/4

1.5/4

2.5/4

3/4

2/4

3.5/4

4/4

4/4

Next 25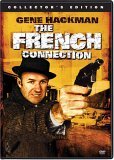 The French Connection
Great Police thriller
4/4 stars
An exciting police thriller that I enjoyed every second of and continue to enjoy it every time that I watch it. The film is great; the true story it follows is incredibly interesting. I liked the way the story followed through the police procedure, very realistically and in an incredibly interesting way. The famous car chase scene is famous for a reason it looks great and is incredibly satisfying in the end. The whole story is satisfying, I thought the whole film was great.

Oscar Win Best Actor Gene Hackman 5/5- Hackman is perfectas Popeye Doyle. His scenes where he takes down the criminals through talking and handling is perfectly done. The other scenes important are his obsessions of catching the criminal. His obsessions are well shown in the scenes and his last scene his is in perfectly done by Hackman.

Oscar Nominee Best Supporting Actor Roy Scheider 4/5- Scheider plays well against Hackman in the film. His role could have been completely forgettable but he does not cause that to happen. He keeps his character fun and entertaining to watch as the much more normal partner.