2.5/4

2/4

1.5/4

1/4

1.5/4

1/4

2.5/4

3.5/4

3.5/4

2.5/4

4/4

2.5/4

1/4

1.5/4

2.5/4

2/4

4/4

1/4

1.5/4

4/4

1.5/4

1.5/4

3/4

3.5/4

3.5/4

Next 3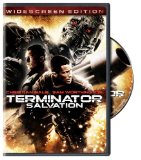 Terminator Salvation
Trapped in Mediocrity
2/4 stars
Terminator Salvation is the third sequel, arguably a prequel, to the original Terminator and is intended to breath new life into the franchise. While this film manages to supply several great action sequences, it is for the most part quite lifeless. It bears little resemblance to its predecessors and doesn't offer much hope for a proposed trilogy of post-judgment day films.

Of course a post-judgment day Terminator wouldn't and shouldn't be exactly the same and a new direction was definitely needed after T3 borrowed most of its plot elements from T2. Visually the film does a great job of creating a post-judgment day landscape although this becomes over bearing after awhile. That and the human characters aren't nearly as interesting as those from the first three films. The machines are often the only things of interest in this movie.

We see several machines we are already familiar with, the HK's and T-600's, as well as some new ones. Now there is clearly no actual need for the giant 'transformer' in this film but it would be hard to deny how cool it is. The 'moto-terminators' are also very badass. The machines are very well portrayed from a visual standpoint. They do however seem to be void of much intelligence when it comes to eliminating John Connor. Regardless of their intelligence, they look cool and provide for some great action sequences, which seems to be their ultimate purpose.

It's the story and the human characters that keep this film from taking off. Christian Bale is a very wooden John Connor. The only real highlight is Anton Yelchin as Kyle Reese. Marcus Wright is an interesting enough character in theory and I suppose Sam Worthington does a nice job but it's nothing too extraordinary. The support cast is decent but no one really stands out. It doesn't help the material they are given to work with isn't the greatest. There are of course several references, in dialogue, to the previous films but they only harm the integrity of this film. Thankfully none are as bad as Arnold's "I'm Back" in T3 though.

As for the story, we all know the basics, but the 'logic' of this movie is certainly up for questioning. Then again – the logic of the entire franchise is up for debate. The machines have decided to use Kyle Reese to lure John Connor into the heart of Skynet. Why they don't just kill Kyle Reese is certainly worth questioning because if they did, John Conner would never exist. Of course he already does exist so… O I suppose it's really rather pointless to try and figure any of it out. How the machines even know to target Kyle Reese is on interest as well. Regardless, the next time the Machines use one of their own to lure Connor right to them, they might consider inserting a failsafe.

The final showdown is definitely a highlight but it feels slightly over the top although I really shouldn't be too surprised by this. The film never really finds it's footing through its two hours. It has some great moments and action sequences but never manages to establish itself. It has some nice action sequences but that is really it. I, like many others, hoped this would be an improvement on the last installment but really i feel as if T3 is the better film. Certainly this is far from the quality of T1 and T2. With no more new ground left to cover, perhaps its time they lay this franchise down to rest.