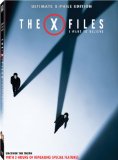 The X Files: I Want to Believe
I Wanted To Believe...
1.5/4 stars
The X-Files: I Want To Believe is the long awaited follow-up to the hit television series. It would appear the six-year gap did this film in from a financial standpoint as it tanked at the box office. Of course, it could also be that the film wasn't very good. Either way, this film didn't draw many to the theater and those it did were certainly left disappointed.

Mulder, last seen being pursued by the government with rocket-launcher equipped helicopters, has apparently been collecting news clippings and growing a beard during his time away from the office. Scully has been working as a medical doctor and a lot of the film focuses on her internal struggle between faith and the treatment of patient. This storyline however isn't very engaging, much like Scully based episodes of the series when David Duchovny wanted a week off.

Mulder is lured back to the bureau by a young F.B.I. agent trying to solve a case involving the disappearance of several women and a Father who believe to have a psychic connection to the case. From there they engage in several attempts to find these missing women. Scully's internal dilemma between religion and science as well as a general skepticism of Father Joe make up the rest of the film. The plot all around isn't very interesting and the only thing worthwhile is Mulder's persistent efforts to solve the case.

The movie's story is modeled after the 'Monster of the Week' formula the show employed so well in its first season but it doesn't work here. This is mostly because there is no monster, only some foreigners who have engaged in some rather creepy science experiments. With the exception of Father Joe's psychic connection, of which no one other than Mulder believes, there really is no X-File here.

Of course focusing the film on the characters isn't an entirely bad idea but they would have needed to come up with a story far more interesting than this. It hits a few right notes here and there but will ultimately let even the most hardcore X-Files fan down. There were talks of a potential third film involving the Alien invasion of 2012 but at this point that seems highly unlikely. After it's poor reception, both critically and financially, this is probably the last we've seen of Mulder and Scully. It would be an unfortunate end to what was a defining pop-culture phenomenon of the 90's.