3/4

3/4

4/4

N/A

4/4

3.5/4

1.5/4

3/4

1.5/4

3.5/4

3/4

1/4

0.5/4

3.5/4

3.5/4

3.5/4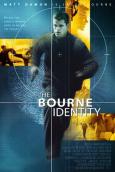 Bourne Identity, The (2002)
Don't Tread On Me
3.5/4 stars
When a rouge assassin of the classified Treadstone project, Jason Bourne, is found floating twenty miles off of the Mediterranean coastline, amnesia-stricken Bourne must rely on skills and abilities he didn't know he had in order to stay one step ahead of a relentless government agency out to terminate him. This movie was clever in the way that it brought you a cunning and easily understood spy story that left out all of the Tom Clancy jargon that complicates more than it compliments. Matt Damon also becomes a commendable addition to the list of spyconsą to date, delivering an explosive performance not only as a mysterious agent, but a man who can get results…
Ultimately, this is everything you could order off of the espionage menu, be it cool guns, explosions, incredible martial arts or a habitual reinvention of the car chase, this movie is loaded with good times that are definitely worth having.

1. – spycons (spy icons) is what is known as a Crum-pun…get used to it.