1.5/4

1/4

2/4

3/4

3.5/4

3/4

3/4

1.5/4

0.5/4

3/4

1.5/4

1/4

2/4

1/4

1/4

0.5/4

2.5/4

3/4

2.5/4

1/4

1.5/4

2.5/4

4/4

3.5/4

1/4

Next 25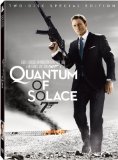 Quantum of Solace
Cold Killer Replaces Ad Man as Bond
2.5/4 stars
This is the gritty Bond we were promised in Casion Royale and didn't get. Craig's Bond is not a nice guy : steely eyed, silent and murderous, he's more of an Eastwood-style hero than the cheeky playboy of the Brosnan years.

Which is to say, he's a believable spy in a world where government officials exploit the weak and the CIA supports violent dictators.

Bond purists who like comic-booky action will be disappointed. Borne Identity fans will think it's a step in the right direction.