3.5/4

1/4

3/4

4/4

2/4

1/4

2.5/4

3/4

2/4

3.5/4

2/4

3/4

3/4

2/4

3.5/4

3/4

4/4

2.5/4

3/4

3/4

3/4

3/4

1/4

2.5/4

2/4

Next 25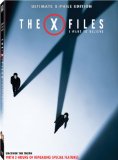 The X Files: I Want to Believe
MULDER! SCULLY! TERRIBLE!
1/4 stars
A crushing disappointment made worse by the fact that the show's creator was responsible for it. What made the X-Files work was the Mulder-Scully dynamic and even through the worst episodes at least we had that to hold onto. I thought it could be safely assumed that Carter recognized this, but instead what we get is a movie where the two spend far more time apart than together. That's not to say that their scenes together are dynamic, more like going through the motions and making sure that check clears.

It doesn't help that they went the monster of the week route to supposedly bank on the casual fans while box office results quickly showed they didn't exist. The best they could do was come up with uninteresting garbage about organ harvesting all loosely held together by the paranormal connection of a psychic in order to call it the X-Files. I can assume that the reason the plot was held under such secrecy was the word getting out that it was terrible.

This franchise should have been left alone after the great and often misunderstood finale, unless they planned to make a serious movie involving the show's sometimes overreaching mythos. But to get peoples hopes up over an awful monster of the week story was wrong.