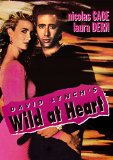 Wild at Heart
However...
4/4 stars
I always think, that Lynch is overrated.
But this movie is one of the best, which I saw. Cinematography like in soap-opera... but the story, however seems to be a traditional romance, is sick. Lynch's way of sickness...
This movie I can call "However":
1. However I don't like Lynch, I love this movie: it's very intresting...
2. However I think that Cage is terrible, in THIS movie he created a great role...
Ok, best to see in company.