4/4

3.5/4

3.5/4

3.5/4

3/4

3.5/4

3/4

4/4

4/4

3.5/4

3/4

3.5/4

3.5/4

3.5/4

3.5/4

2.5/4

4/4

3.5/4

3.5/4

3/4

3.5/4

1/4

2/4

3.5/4

3.5/4

Next 17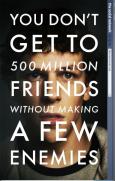 The Social Network
The Social Network
4/4 stars
This is our time and this is our movie. The Social Network is the film that symbolizes our generation and it's doing it great. Jesse Eisenberg's performance as Mark Zuckerberg belongs to one of the best i've ever seen and I hope he gets an Oscar, though I heard that Colin Firth dude is pretty good.

Screenplay and direction is great too, Sorkin and Fincher did a very good job on this one both also deserves awards on the kodak theatre.

Overall this is a great film with strong performances and also great music that helps to show the feelings of the characters. After Fight Club, it's tied with Seven to be Fincher's second best and the best movie of the year.