4/4

3.5/4

3.5/4

3.5/4

3/4

3.5/4

3/4

4/4

4/4

3.5/4

3/4

3.5/4

3.5/4

3.5/4

3.5/4

2.5/4

4/4

3.5/4

3.5/4

3/4

3.5/4

1/4

2/4

3.5/4

3.5/4

Next 17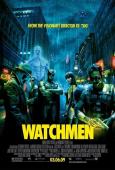 Watchmen
"Watchmen" review
3.5/4 stars
I finally watched this movie last night and I must say that I was really impressed. My favourite character in the movie is Rorsach (some people have propably said it before). He's thoughts in his diary is just an extra + to the movie.
In some way it feels like the movie loose some things right before the ending. The whole "Mars thing" could have been something better.
But still, I liked this movie a lot. The actors are great and so is the plot. The soundtrack works perfect with the movie and the intro with beautiful pictures and the song "The Times they're Changin" is one of the best movieintros i've seen.
Some things in this movie let me down and some things was very good and as well as "Watchmen" is beautiful to see it's unusual in a good kind of way.