4/4

3.5/4

3.5/4

3.5/4

3/4

3.5/4

3/4

4/4

4/4

3.5/4

3/4

3.5/4

3.5/4

3.5/4

3.5/4

2.5/4

4/4

3.5/4

3.5/4

3/4

3.5/4

1/4

2/4

3.5/4

3.5/4

Next 17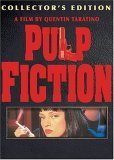 Pulp Fiction
"Pulp Fiction" review.
4/4 stars
Pulp Fiction came out in one of the best movie years ever and it's a shame that the movie didn't win more oscars that it deserved. Tarantino's action/crime/comedy film is directed and written very great (the script is propably the best ever). The dialogues includes great quotes and you can really live in the characters conversations. The whole movie feels very original and the 70's music is makes me feel good, especially the intro "Miserlou".
My favourite character in the movie is Samuel L. Jackson's Jules Winnfield. When he reads Hezekiel 25:17 and tells Brett to not say "what?" is one of my favourite moments in the movie.
QT don't follow any special "movie rules" or something like that, he makes his own. And you can really see that in Pulp Fiction which is, by this time, my favourite film of all time.