2/4

3/4

3/4

1.5/4

3/4

3.5/4

3.5/4

2.5/4

2/4

3/4

3/4

4/4

2.5/4

4/4

3.5/4

0.5/4

3.5/4

3/4

3.5/4

3.5/4

3/4

4/4

4/4

4/4

3/4

Prev 25 | Next 25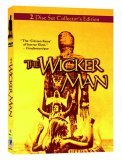 Wicker Man, The (1975)
A Horror Classic!
3/4 stars
This is a film that has been called "The Citzen Kane of British Horror." While I wouldn't go that far in its praise, Robin Hardy's "The Wicker Man" is still one of the most chillingly brilliant and shockingly terrifying films in the history of the genre.

The film centers around a British policeman who travels to a remote island to investigate the dissapearance of a young girl. When there he learns there's more to the island than meets the eye. The island is a place of strange rituals and where people are taught sex is the devil's work. This leads up to a shocking ending that will leave you thinking about it for days.

The acting in the film doesn't offer any stand out performances, but some notables are Edward Woodward as the officer and horror icon Christopher Lee as the evil Lord Summerisle. We also have Britt Eckland who dances and...uh...just see the movie.

The suspense and shock value of the film is the best part. As I said, the ending is one of the most shocking. In fact, its so schocking, I can't help but talk about it. But don't worry, considering this a review, I won't bend any rules.

"The Wicker Man" is no masterpiece, but it is still a shocking work of cinema and deserves the praise it recieves. This is truly a great piece of work. And then there's the remake...