3.5/4

3/4

4/4

3.5/4

3.5/4

4/4

4/4

4/4

4/4

2/4

2.5/4

1.5/4

2/4

2/4

3/4

1/4

4/4

1.5/4

0.5/4

3/4

4/4

3/4

4/4

3.5/4

3/4

Next 25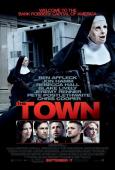 Town, The (2010)
Mr. Affleck, you are officially awesome!
4/4 stars
Wow. I never thought I'd see myself saying "Ben Affleck is a phenomenal filmmaker." Ever since Gone Baby Gone from 2007, Affleck has been improving upon his long career. I don't think he's as bad of an actor as everyone claims he is, I actually quite like him. But as far as many professions go, I think writing and directing are his two strongest. And The Town proves this point as it an excellent heist film in the spirit of something like Heat or The Departed.

The Town focuses on Doug Macray, a career criminal who, along with his friend Jem, makes a living off robbing banks in Boston. After robbing a bank and taking its manager hostage, Macray gets involved with the woman and finds that he has feelings for her. She doesn't know this and Macray sees her as a way of getting out of this life he doesn't want to be apart of anymore. However, Jem has other plans.

The Town is a very gritty thriller with excellent cinematography and well done action scenes. The suspense and tension in the movie is very well handled and the emotions colliding between each of the characters feel real and authentic.

The acting is also strong. Jeremy Renner is terrific as Jem. He's a villainous character and yet we feel for him. Affleck probably gives one of his best performances since Hollywoodland. And as for everyone else in the cast, they're nothing below great. They all do outstanding.

All in all, if you enjoy a good heist movie every now and then, you'll like The Town. Its a fast paced thriller that keeps you pinned to your seat. We need more films like this nowadays.