4/4

4/4

3.5/4

3/4

1/4

3.5/4

4/4

2/4

4/4

4/4

2.5/4

3/4

3.5/4

3/4

4/4

3.5/4

2/4

4/4

3.5/4

4/4

3/4

3.5/4

4/4

2/4

3/4

Prev 25 | Next 25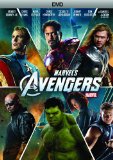 Avengers, The (2012)
Near Perfect Super Hero Film
4/4 stars
SPOILERS AHEAD My one complaint with the Avengers is that I felt it built too slowly - that the first act moved at a snail's pace, compared with the rest of the film. In retrospect, I think this is party due to my own impatience; I knew the awesomeness that was to come from a teaming of some of Marvel's most iconic heroes, and I wanted to get straight to the action. That's about the only complaint I can summon. The Avengers is pretty much the perfect super hero film. It's loud, unapologetic, sometimes silly, and displays a distinct love and knowledge of the source material. Every hero is given his or her moment to shine and their personalities, clearly defined by preceding films, are given full reign to clash and collide. Seeing Tony Stark fire off one-liners against the idealistic Captain America and defiant Thor is a joy to see. Loki also is a sufficiently evil and power hungry villain (although I felt the alien beings that followed were a little phoned in.) Once the film hits its stride with the action-packed third act, I couldn't stop smiling. If there was a real star to the film, special effects-wise, I'd say it was the Hulk, who delivers moment after ass-kicking moment, but each hero has a chance in the spotlight and the film feels like an ensemble film done right.

I also liked the film's allusions to the comic book hero audience - to the fact that superheroes live to embody our real life dreams and aspirations in larger-than-life battles between good and evil. Whedon is known for meta-type symbolism and that was a nice thematic touch.

If anything, the film serves to set up what will surely be a monster Avengers 2 and, if you know anything about the comic book Marvel universe, you'll recognize the villain who makes a brief appearance in a foreshadowing post credits sequence which hints that Loki is the least of the team's worries.

From a business angle, also, it should be noted that the Avengers, so far, has been an absolute beast at the box office. This is a good thing. It puts the power in Marvel and Disney's hands and ensures that these cross-referenced, shared franchise films work and that we may see more blending of comic book universes in the near future.