3.5/4

3.5/4

3/4

3.5/4

2/4

2.5/4

3/4

3/4

3/4

1/4

3.5/4

2.5/4

2.5/4

2.5/4

2/4

3.5/4

3/4

4/4

0.5/4

3/4

4/4

3/4

3.5/4

1.5/4

3/4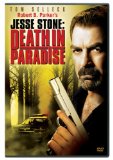 Jesse Stone: Death in Paradise
Anything that looks like a clue.
2.5/4 stars
Death In Paradise is a 2006 tv movie based on the Robert B. Parker novel of the same name. It is the third in the Jesse Stone series. Tom Selleck returns as police chief of a small, Massachusetts town with Viola Davis and Kohl Sudduth as other officers.

Robert Harmon also returns, but in the director's chair and does top-notch.

Although not as good as Stone Cold or Night Passage, it still delivers.