3.5/4

3.5/4

3/4

3.5/4

2/4

2.5/4

3/4

3/4

3/4

1/4

3.5/4

2.5/4

2.5/4

2.5/4

2/4

3.5/4

3/4

4/4

0.5/4

3/4

4/4

3/4

3.5/4

1.5/4

3/4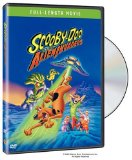 Scooby-Doo and the Alien Invaders
Zoinks! You can talk?
2.5/4 stars
Scooby-Doo! and the Alien Invaders is the third of a series of direct-to-video animated films based upon the Scooby-Doo Saturday morning cartoons.

It stars Scott Innes,Frank Welker, Mary Kay Bergman and B.J. Ward. This was Mary Kay Bergman's final performance as Daphne because she comitted suicide shortly after. They all do a great job and they each make the character thier own.

The plot is kind of bland, but makes up for it with an intresting twist. Check it out.