3.5/4

3.5/4

3/4

3.5/4

2/4

2.5/4

3/4

3/4

3/4

1/4

3.5/4

2.5/4

2.5/4

2.5/4

2/4

3.5/4

3/4

4/4

0.5/4

3/4

4/4

3/4

3.5/4

1.5/4

3/4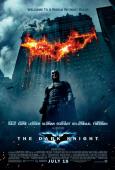 The Dark Knight
I'm Gonna Make This Pencil Disappear
3.5/4 stars
The Dark Knight is a 2008 superhero film directed and co-written by Christopher Nolan. Based on the DC Comics character Batman, the film is part of Nolan's Batman film series and a sequel to 2005's Batman Begins. Christian Bale reprises the lead role. The film follows Bruce Wayne/Batman, District Attorney Harvey Dent, Assistant D.A. Rachel Dawes and Police Commissioner James Gordon (Gary Oldman) and their struggles and journey in combating the new rising threat of a criminal who goes by the name of the Joker.

Nolan's inspiration for the film was the Joker's comic book debut in 1940, and the 1996 series The Long Halloween, which retold Two-Face's origin. The Dark Knight was filmed primarily in Chicago, as well as in several other locations in the United States, the United Kingdom, and Hong Kong. Nolan used an IMAX camera to film some sequences, including the Joker's first appearance in the film. On January 22, 2008, after he had completed filming The Dark Knight, Heath Ledger died from a toxic combination of prescription drugs, leading to intense attention from the press and moviegoing public. Warner Bros. had initially created a viral marketing campaign for The Dark Knight, developing promotional websites and trailers highlighting screen shots of Ledger as the Joker, but after Ledger's death, the studio refocused its promotional campaign.

Christian Bale's Batman is inferior to previous takes on the roll.(Adam West, Michael Keaton, Val Kilmer) and makes this movie a little worse for me. His "intimidating" Caped Crusader voice is stupid and second-rate.

Meanwhile, Heath Ledger's Joker blow's my mind. He's marvelous in the role and makes up for Bale's Batman. The first time I watched his performance, I was scared to death, but after getting past that I realize it's the perfect blend of grotesque and comical. We have truely lost a great actor. He won the Academy Award for Best Supporting Actor.

All of the supporting cast does great with my favorite actor being Michael Caine, who portrays Alfred.

Wally Pfister's cinematography is faultless and beyond compare. He was nominated for an Academy Award.

Finally, we come to Christopher Nolan. His direction is very impressive. You can tell he has a vision of what he wants and gets it across PERFECTLY.

Overall, a great film and a MUST-SEE.