3/4

2/4

3.5/4

3.5/4

3/4

2/4

4/4

1.5/4

2.5/4

2.5/4

3.5/4

3.5/4

1.5/4

2/4

1.5/4

2/4

3/4

3/4

3/4

1/4

3.5/4

3/4

N/A

1/4

N/A

Next 14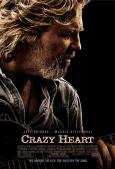 Crazy Heart
Jeff Bridges, Enough Said
3.5/4 stars
"Crazy Heart" is one of those rare character based films which allow you to go on a roller coaster ride of emotions side by side with its main players. Admittedly, this film will be remembered more for Jeff Bridges Oscar winning performance than for its story. The story has been done before in other films, but a performance of this calibre has not been achieved by Jeff Bridges before and is a performance that will be remembered for years to come. Bad Blake (Bridges) is a washed up country singer who'd life practises are not to be admired. He used to be great, but nowadays he has been reduced to performing in bars and bowling alleys. His life starts to turn around when he meets Jean (Maggie Gyllenhaal), a single mum journalist from Santa Fe who wants to write a story about Bad Blake. She is different than all the other women Bad has met on the road and her and her son leave a mark on him, proving him to be in some ways, not as bad as he thought, but in other ways, worse than what he thought.

The story is the character. Some people may think that not much happens in the movie, but it is what happens to the character is overwhelming and is the story. Although the film can seem a tad slow at times, not one of the scenes is wasted and each scene tells something about the character. The directing by Scott Cooper is superb, not just with his direction of the acting, but the cinematography is also very well done. One cannot critique "Crazy Heart" without mentioning the musical score. The music is original and will be a favourite with all country music fans. However, people who are not fans of country music will also be moved by the lyrics of "The Weary Kind" and "I Don't Know".

Not enough praise can be given to Jeff Bridges performance. It is undoubtedly the best of his career. He is at first arrogant and disgusting, but progresses into a lovable and unforgettable character. He at first seems almost one-dimensional, but the pain and sorrow which he feels is completely evident in his face by the end of the film. Credit must also be given to Maggie Gyllenhaal who also gives one of the best performances of her career. She is completely believable as the damaged, protective single mother. Gyllenhaal is perfectly cast and is well deserving of her Oscar nomination. The chemistry between Bridges and Gyllenhaal is good emotionally, but can seem to be physically incompatible.

"Crazy Heart" is the must see film of the year for country music fans, but it is also for non-fans, although true haters of country music may not be able to handle hearing so much of it. "Crazy Heart" is one of the great character based films of the past few years and Bad Blake is definitely a character to be celebrated.