3/4

2.5/4

2.5/4

3/4

3/4

2.5/4

2/4

3/4

2/4

3/4

3/4

3/4

2.5/4

3.5/4

2/4

3.5/4

3/4

3/4

3/4

2.5/4

3/4

2.5/4

2.5/4

2/4

2.5/4

Next 25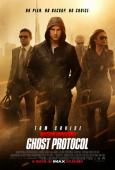 Mission: Impossible - Ghost Protocol
Blue is Glue, Red is Dead
2.5/4 stars
When the Kremlin blew up by a bomb, Ethan Hunt (Tom Cruise) and his team become primary suspects of Russian force, if they get caught, they will be declared as terrorists and enemies of the state. Their only way to get out of this was to expose people who are really behind the bombing.
***

I am not really sure if I saw the previous three installment of this movie, but anyway, I kind of disappointed yet satisfied with this MI film.

THE DISAPPOINTMENT: Nothing really special with the story, not smart as I assumed before seeing the film, even the twist on Jeremy Renner's character did not work well.

THE SATISFYING: I love the characters, all with humor and fun to watch acts especially William Brandt's (Jeremy Renner). The actions, running, chasing, climbing, car bumping, the sand storm, all adds up to the intensity of this exciting movie.