3.5/4

3/4

2.5/4

3.5/4

1.5/4

2/4

3/4

3.5/4

4/4

3/4

3.5/4

3/4

2.5/4

3/4

2.5/4

3.5/4

2/4

3/4

2.5/4

3.5/4

2.5/4

3/4

3/4

2/4

3/4

Next 25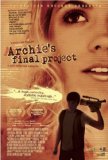 Archie's Final Project ( My Suicide )
"Call of death is like call of love."
3/4 stars
A student decides to kill himself for a film class final project. And when cops come to pick him up from campus because of this crazy idea, everyone suddenly notices him, he gains attention, meets people and discovers everybody else's lives.

***

I like this film. Yeah, it looks like a crap, but that's exactly what this film trying to point out. People should watch non-mainstream films like this. This is not just a story of a young one who would like to kill himself, this film illustrates a real life situation presented in a comedic way.

I swear, it won't bore you watching this.