3.5/4

3/4

3/4

3/4

2.5/4

3/4

2.5/4

2.5/4

2/4

2.5/4

2.5/4

3/4

3/4

3/4

3/4

2/4

3.5/4

3.5/4

3.5/4

3/4

3.5/4

3.5/4

4/4

3.5/4

3.5/4

Next 25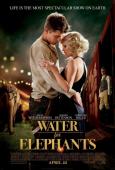 Water for Elephants
A Clean and Pleasant Watch
3/4 stars
After the car accident his parents met just before he finished his Veterinary studies, Jacob finds himself caring and teaching animals for a circus company. And there he finds a woman who brings him both amazement and struggles of the show.

***

Okay. Before watching, I wasn't expecting that much from this film. But it turned out that it exceeded on my expectation. Clean plot, clean execution, clean acting especially from Witherspoon and Waltz, except the smiles from that vampire turned vet guy. I don't get the point of his smiles, I understand his character but his smiles in particular kept me wondering WHY LIKE THAT? Ooops. Sorry! maybe I just don't appreciate much of the acting of Robert Pattinson. Okay. Going to my real concern, I didn't see the necessity of doing it in a flashback way. Or at least not at the beginning.

I though of giving this film a 2.5 stars, but I want to be generous enough to give it a 3/4 rating.