2.5/4

3/4

3/4

3/4

3/4

2/4

3.5/4

3.5/4

3.5/4

3/4

3.5/4

3.5/4

4/4

3.5/4

3.5/4

2.5/4

4/4

3/4

3/4

3/4

3/4

3/4

3/4

2/4

3/4

Next 25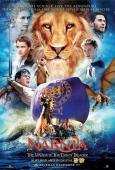 The Chronicles of Narnia: Voyage of the Dawn Treader
For Narnia!
2.5/4 stars
Voyage of the Dawn Trader (The Chronicles of Narnia) is such a good Adventure movie. A ship on a journey to solve a sort of mysterious case. A voyage that challenged their temptations and found each and everyone's fears, weaknesses, and limitations. A cruise which showed them their real powers, strengths, and determinations to fight FOR NARNIA!

I never COMPLETELY LIKED Narnia movies. Effects are simply not amazing, actors are simply acting. Everything seems SIMPLE and never been on the point of a GREAT FILM. I watched this movie because i had watch the first two, so why not? The lion, the witch, and the wardrobe disappointed me. Prince Caspian slightly got me. Voyage of the Dawn Trader made me realize one thing: Narnia is for Not-so-young and not-so-old people. IT'S SIMPLY AN ADVENTURE WITH MORAL LESSONS IN IT. Not Bad!!! =)

I heard it's the last Narnia movie, uhmm, definitely not a good one for a finale but i like the way this movie presented my favorite character, Edmund.