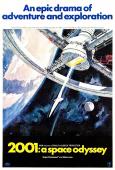 2001: A Space Odyssey
Ideas over lightsabers
3.5/4 stars
My father made me watch it at a young age and I was transfixed. This film is definitely not for everyone. It really depends on what you are looking for in science fiction. If you like your sci-fi about ideas over lightsabers, then 2001 is the ultimate film.