3/4

4/4

3/4

3/4

3/4

3/4

3/4

1.5/4

4/4

4/4

2.5/4

4/4

2.5/4

3.5/4

2.5/4

0.5/4

3/4

2.5/4

2/4

2.5/4

2.5/4

2/4

2.5/4

3/4

3.5/4

Next 25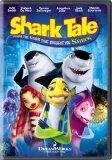 Shark Tale
Another decent Dreamworks animation
2.5/4 stars
"I learned everything I ever needed to know about the Mafia from watching the most important mob movie of our time....Shark Tale" - Homer Simpson
Yeah I know this isn't the best mafia movie of our time, but I have respect for this movie because I really appreciate the animation. The lighting and texturing was phenomenal and there were a number of great choices for voice actors.
While it seemed to come out right after the popularity of Finding Nemo, it has its own direction. While it is not a Pixar film, Dreamworks animation department really knows its stuff.