3/4

3/4

3.5/4

3.5/4

3/4

3/4

3/4

2.5/4

3.5/4

2.5/4

3/4

3.5/4

1/4

1.5/4

2.5/4

3.5/4

3.5/4

2.5/4

2/4

3/4

2.5/4

2.5/4

3.5/4

3/4

3/4

Prev 25 | Next 25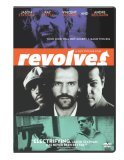 Revolver (2007)
Ritchie, Statham, Liotta, it doesn't get better
3.5/4 stars
This movie is sick! I thought it was absolutely amazing the first time I saw it. Now I may be a little biased since Guy Richie has made a ton of great movies and as long as he is not listening to or allowing Madonna to worm her way into his films things go very nicely. This movie is starring Jason Statham and Ray Liotta. It is also one of the first movies where you will see Jason Statham with hair. He plays a man that has recently gotten out of prison, and he is spending his time building himself up to get revenge on the men that put him there, specifically Liotta.
The movie is one of Ritchies more dark films, it doesn't have the comedy that Snatch has, and it flows along similar lines of Lock Stock but only in the respect that the camera movements jump around from one area to another very quickly. If you don't pay very close attention this is one movie you will definitely get lost trying to watch.
Over all this film is incredible! Check it out as soon as you get the chance.