3/4

4/4

3/4

3/4

3/4

3/4

3/4

1.5/4

4/4

4/4

2.5/4

4/4

2.5/4

3.5/4

2.5/4

0.5/4

3/4

2.5/4

2/4

2.5/4

2.5/4

2/4

2.5/4

3/4

3.5/4

Next 25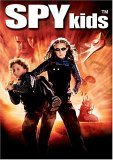 Spy Kids
Entertaining
3/4 stars
Robert Rodriguez is best known for bloody movies like "Desperado" and "From Dusk Till Dawn." Now we see him going after a movie for kids he pulls it off incredibly. When I think about the other movies that he has made its perfect sense why this movie does so well. None of his other movies were "serious". While they were violent, they all had a very comical aspect to them if you think about it.
The film has a stunning array of special effects, ranging from walking thumbs to a particularly imaginative experience in the villain's headquarters. Even the introduction has zest and intrigue: we meet a seemingly normal family of four, consisting of Ingrid and Gregorio Cortez (Alexa Vega and Antonio Banderas), and their children, probably middle school aged, Juni and Carmen (Daryl Sabara and Alexa Vega). As the movie opens, Ingrid tells her children a nice bedtime story about two daring spies assigned to kill the other, but fall in love, get married, and retire. She prepares her offspring for bed and turns the lights off, walks to her husband, and explains she thinks it would be a good idea to tell Carmen and Juni their real identities as top-secret spies; the story Ingrid enlightened her kids with was true.
Rodriguez quickly sketched his characters, but his method is surprisingly effective; the movie starts out with fast-paced action and captures our attention abruptly and does not really lose energy throughout its running time. We learn the two married spies have retired from the business nine years prior, but their fellow OSS agents are disappearing all over the world, and thinks it to be the work of a kids TV show host named Fegan Floop (Alan Cumming in a very whimsical, fitting performance) and his assistant, Minion (Tony Shalhoub). The agents have been converted into clay-like animated characters held captive at his mega tech laboratory. Imaginative and interesting, if a bit cheesy.
Over all the movie is entertaining for pretty much everyone.