3/4

4/4

3/4

3/4

3/4

3/4

3/4

1.5/4

4/4

4/4

2.5/4

4/4

2.5/4

3.5/4

2.5/4

0.5/4

3/4

2.5/4

2/4

2.5/4

2.5/4

2/4

2.5/4

3/4

3.5/4

Next 25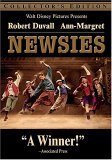 Newsies
A great movie, a brilliant musical.
3/4 stars
Newsies is based on the true story of the 1899 newsboys strike in New York City. Robert Duvall plays Joseph Pullitzer, the real life newspaper tycoon who runs much of the city (newspaper rival Hurst and Teddy Roosevelt himself also appear in the movie). When Pullitzer makes a ten percent cut on the sales of newspapers for the newsboys (mostly teenage boys who smoke and pull off believable New York accents), the boys get mad and go on strike. They are led by Jack "Cowboy" Kelly, a boy on his own who "improves the truth" about himself. He is followed by his partner, the good boy David Jacobs, and his cute little brother Les, and the rest of the grungy street rat boys in their crusade against Pullitzer.
This is a Disney movie, which is why I can't understand why no one knows about it. (And surprisingly, the word "dumbass" is even used-by Jack). But I love the music in this movie. "Carrying the Banner" and "Kind of New York" are fun and two songs you just have to sing along to (my little brother sings "King of New York" all the time), and "The World Will Know" is a song that upholds justice and personal rights. And "Santa Fe" is heartbreaking. This song is sung by Jack (yes, it really is Christian Bale singing) as he expresses how he has no family and nowhere to go in life.
This being the first performance I have seen Christian Bale in, and he was simply amazing.