3/4

4/4

3/4

3/4

3/4

3/4

3/4

1.5/4

4/4

4/4

2.5/4

4/4

2.5/4

3.5/4

2.5/4

0.5/4

3/4

2.5/4

2/4

2.5/4

2.5/4

2/4

2.5/4

3/4

3.5/4

Next 25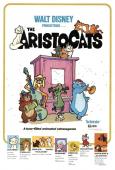 The Aristocats
Everybody wants to be a cat
3/4 stars
One of the lesser known Disney titles. The Aristocats mixes some superb animation with some very cool music. Duchess (voice of Eva Gabor) is the well polished single mother cat of three little kittens. When their owner, the wealthy elderly woman known as Madame Adelaide, realizes that her time is running out she decides to write up her will, leaving everything she has to her cats, which will then go to her butler Edgar when the cats pass on. Edgar overhears this and is deeply offended by the idea that the cats would get everything before him, and plots to destroy Duchess and her kittens; he drops sleeping pills in their supper one night and then leaves them stranded in the French countryside. Out of their element, Duchess and her kittens befriend a street smart stray cat known as Thomas O'Malley (voice of Phil Harris who did the voice of the big bear Balloo in the Jungle Book); after making a pass at Duchess, unaware that she is a single mother, O'Malley decides to escort them back home, with Duchess genuinely falling for O'Malley as the usual codependent surrogate family bond develops; chaos and mayhem ensues, culminating in a violent clash between O'Malley, his brother cats from the streets and Edgar.
Features the memorable "Everybody Wants To Be A Cat" musical piece sung by the late Scatman Crothers (better known to 1980s fans as the voice of Jazz on Transformers).
While the movie may not be one of Disney's best known works, it's not a bad film.