3/4

4/4

3/4

3/4

3/4

3/4

3/4

1.5/4

4/4

4/4

2.5/4

4/4

2.5/4

3.5/4

2.5/4

0.5/4

3/4

2.5/4

2/4

2.5/4

2.5/4

2/4

2.5/4

3/4

3.5/4

Next 25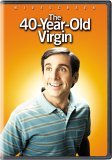 The 40 Year-Old Virgin
You know how I know you're gay?
3.5/4 stars
I'm a sucker for just about anything Steve Carrell is in these days. His comedy styles are awesome because he knows exactly how far over the top he can go before people would start getting turned away by it. The 40 year old Virgin is no exception. When I saw the scene with Andy playing poker with his friends Cal, Dave, and Jay and then sharing sex stories, I knew there would be a sense of frustration. You can tell when Andy makes up a story about having sex, and the others figure it out because Andy attempts to compare women's breasts to sand bags. Virgins, and those with little or no experience in the dating scene, have a hard time, because society seems to laugh at those who are left out.
One thing that I thought was a great approach in the movie that the majority of the dialog is improvised. I mean the dialog did seem a bit more natural than in other movies so if you just stop and listen to it closely for a moment I guess you can tell. But this is in no way a bad thing of course.
There are so many hilarious scenes such as Andy trying to get rid of an erection after refusing to have sex with Trish. Or the scene where Andy goes with his Trish's daughter to a sexual education class where he ends up asking more questions than anybody else. Ah and we must not forget the soon to be classic chest waxing sequence "Ooh! Como se llama!" An interesting little note about that scene; the actor Steve Carell actually did wax his belly and the pain shown is real. Of course they only did one take but it was still a very brave thing to do on his part.
All in all a very funny movie that I think most people would enjoy.