3/4

4/4

3/4

3/4

3/4

3/4

3/4

1.5/4

4/4

4/4

2.5/4

4/4

2.5/4

3.5/4

2.5/4

0.5/4

3/4

2.5/4

2/4

2.5/4

2.5/4

2/4

2.5/4

3/4

3.5/4

Next 25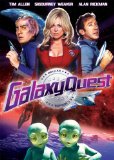 Galaxy Quest
By Grabthar's hammer, we live to tell the tale.
3/4 stars
I loved this movie from the moment I saw it. The cast is huge! Jason Nesmith (Tim Allen) the shows lead, and Allen portays him as the prefect self centered jerk, the guy that knew that he was the most beloved charcter on the tv show and he feels that he should be able to dictate the direction of the other cast members to keep his popularity as high as it was in its prime.
Alan Rickman is as awesome as ever playing Alexander Dane the charater that has been pidgeon holed into, even though he got sick of the roll years earlier. He had critical acclaim behind his acting years, but that would not keep the swarms of fans from begging for the only thing people wanted, to hear him utter his classic line over and over again.
Sigourney Weaver played Gwen DeMarco and she was the one that everyone was attracted to, and the only woman on the ship.
Tony Shaloub played Fred Kwan and he was the technician that kept the ship running.
Sam Rockwell was the extra that always died first, he was always angry at the fact that he was never even given a last name beacuse the writers knew he would die anyway.

This movie brilliantly parodied the idea of the cast of Star Trek and what they have gone through since it left the TV and finished making movies (well movies based on the original series). Very well put together and it is a great film for anyone, a good family title.