3/4

4/4

3/4

3/4

3/4

3/4

3/4

1.5/4

4/4

4/4

2.5/4

4/4

2.5/4

3.5/4

2.5/4

0.5/4

3/4

2.5/4

2/4

2.5/4

2.5/4

2/4

2.5/4

3/4

3.5/4

Next 25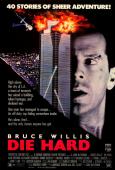 Die Hard
One of the best action films ever
4/4 stars
The first in a series of movies that defines the action genre. This was the first time I ever saw Alan Rickman in a film, and he became one of my favorite actors immediately. Bruce Willis was amazing as always. The thing that made this movie unique is that while McClane was on his own the entire time, you would never know it with the way he talked to himself all the time, and then out of no where he would out right answer himself.
Reginald VelJohnson was fresh as his personality hadn't yet been exploited by the show Famly Matters, and while this could be added as another "buddy cop" movie, it would be the first in which the buddy cops are in the same shot for a couple minutes, the rest of the time John (Willis) is inside Naktomi Plaza, and Al (VelJohnson) is outside the building.

"Now I have a machine gun - ho ho ho" - Hans Gruber (Alan Rickman)
"Come out to the coast, we'll get together, have a few laughs..." - John McClane (Bruce Willis) talking to himself in an airvent by the light of a zippo.