3/4

4/4

3/4

3/4

3/4

3/4

3/4

1.5/4

4/4

4/4

2.5/4

4/4

2.5/4

3.5/4

2.5/4

0.5/4

3/4

2.5/4

2/4

2.5/4

2.5/4

2/4

2.5/4

3/4

3.5/4

Next 25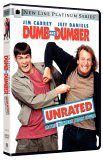 Dumb and Dumber
That's a lovely accent you have. New Jersey?
4/4 stars
When searching for a mindless comedy this should be on the top of the list. Dumb and Dumber falls in line with the classic humor of many comedy teams. While Jim Carrey and Jeff Daniels haven't done anything together since, Dumb and Dumber is a great comedy.
The various movie references everything from A Christmas Story to Silence of the Lambs are great tributes to classic directors. The popularity of this movie is so large that even now you still hear the occasional "Kick his ass Seabass!" Seabass being played by Boston Bruins hockey legend Cam Neely.
If you are expecting sophisticated humor then you are looking in the wrong place, if you want mindless fun that will make you laugh then this is a great place to start. I would venture to say that it is the funniest Farrelly Movie to date.