3/4

4/4

3/4

3/4

3/4

3/4

3/4

1.5/4

4/4

4/4

2.5/4

4/4

2.5/4

3.5/4

2.5/4

0.5/4

3/4

2.5/4

2/4

2.5/4

2.5/4

2/4

2.5/4

3/4

3.5/4

Next 25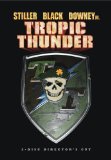 Tropic Thunder
Very Funny, great talent, well worth seeing
3/4 stars
When watching a Ben Stiller film you have to be prepared. First of all the trailers for the film aren't going to give you the best depiction of what the movie is going to be like. I only say that because those that cut the trailer generally are the ones that cut the film. They set it up to make it look like it will be an all around enjoyable comedy that everyone will want to watch.
If you are a seasoned veteran of watching Stiller films you will know that the man is brilliant. His comedy is generally takes something that we view as common and then he pushes it to the point in which everyone can see how ridiculous it is. The best example of this is the fact that he had them put phony trailers in with the real ones just to introduce the characters. It was the best way to open a film yet.
Ben Stiller handles this role as he has in all of his other films and it is obvious that he really likes playing this character. It reminded me a lot of "Mr Furious" from Mystery Men.
Jack Black is very funny all of the scenes that he was in were great, unfortunately his character is kind of limited so going into too any one scene kind of ruins the rest of them.
Robert Downy Jr as may people have already pointed out is the show stopper. He was hilarious! This is one movie that I am anxiously waiting to come out on Blu-Ray (yeah any good movie with with decent effects I gotta admit goes right onto my must buy on Blu-Ray list).