3/4

1.5/4

2/4

0.5/4

1/4

1/4

0.5/4

3/4

4/4

2/4

4/4

2/4

3/4

3/4

3/4

4/4

1.5/4

4/4

0.5/4

3/4

2.5/4

3.5/4

3/4

2/4

0.5/4

Next 25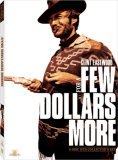 For a Few Dollars More ( Per qualche dollaro in più )
Score
3/4 stars
Though not evident from his past two decades in film, Clint Eastwood wasn't always a
pussy. In this, the second of Sergio Leone's Fistful of Dollars spaghetti western trilogy,
he is borderline hot as a bounty hunter in Texas/New Mexico who teams up with another
(Lee Van Cleef) – each, naturally, with motives of his own. Ennio Morricone's influential
score is a boon here, not to mention an unmatchable set of opening credits.