2/4

4/4

2.5/4

4/4

3/4

2/4

1.5/4

1.5/4

0.5/4

3/4

2.5/4

4/4

2/4

3.5/4

2/4

4/4

4/4

2.5/4

3/4

2.5/4

3/4

4/4

3/4

4/4

2.5/4

Next 25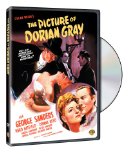 The Picture of Dorian Gray
ageless classic
4/4 stars
one of Angela Lansbury's first film.
once you see this movie you'll remember it always. Based on a story by Oscar Wilde, which George Sanders seems to be channeling through out the film.
Hurd Hatfield plays Dorian Gray a man who seemingly never ages. And he does it really well.
If your reading this just go watch this movie. trust me it's worth your time.