3/4

3/4

2.5/4

1.5/4

3/4

3/4

3.5/4

3/4

3/4

3/4

3/4

3/4

3.5/4

3/4

3/4

3/4

3/4

3/4

3/4

3/4

3.5/4

3/4

3/4

3/4

3/4

Next 25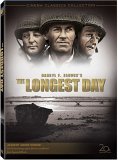 The Longest Day
A landing at Normandy would be against all logic.
3/4 stars
My abiding memory of The Longest Day will forever be Red Buttons as paratrooper Pvt John Steele hanging from a church steeple helpless and terrified as his colleagues are shot down around him. This is predominately the reason for this movies considerable success, the blending of personal individual stories and mammoth battle scenes featuring (literally) a cast of thousands.
A labor of love for producer Darryl F. Zanuck who rolled the red carpet out for an astonishing cast of international stars of which John Wayne is the standout.
Impressive, epic and richly detailed, the Longest day remains a stunningly observed acheivement.