3/4

3/4

2.5/4

1.5/4

3/4

3/4

3.5/4

3/4

3/4

3/4

3/4

3/4

3.5/4

3/4

3/4

3/4

3/4

3/4

3/4

3/4

3.5/4

3/4

3/4

3/4

3/4

Next 25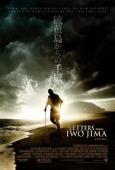 Letters from Iwo Jima
For our homeland. Until the very last man.
3/4 stars
In 2006, iconic actor and director Clint Eastwood released two movies dealing with the World War 2 Battle of Iwo Jima. Flags of our Fathers dealt with the American marines who raised the American flag in the legendary photograph taken at the time.
Letters from Iwo Jima explored the battle from the Japanese perspective and is a far more personal and intimate movie.
In examining the hardship and unbearable conditions endured by soldiers facing in surmounting odds, LFIJ humanizes the combatants without being over sentimental.
Fresher and more focused than Flags, this is a movie that portrays the horrors of war using superb and assured cinematography and turns an emotionally charged war movie into a near classic.